Early in Hà Lệ Diễm's extraordinary documentary feature debut Children of the Mist (2021), the film's then-twelve-year-old subject, Di, giggles with abandon while playing with her friends. 'Let's catch the bride!' she exclaims, initiating a game of tag laden with disquieting overtones.
Reality has a way of filtering into the minds of children; even the darkest parts of adulthood find their reflections in childhood games, means of acting out any number of future situations that its participants cannot yet fully understand. In Children of the Mist, the scenario we see Di perform is an unusually ominous one. As a Hmong girl growing into adolescence in northern Vietnam, she each year faces increased risk of being subjected – like her mother and sister before her – to the cultural practice of bride kidnapping.[1]A tradition in which women and girls, some as young as twelve, are abducted and forcibly married. See Brendan Rigby, 'Vietnam: The Burden of Being a Child Bride', Girls Not Brides website, 28 May 2013, <https://www.girlsnotbrides.org/articles/the-burden-of-being-a-child-bride-in-vietnam/>, accessed 28 November 2022.
In the film, this phenomenon is spoken about with a confronting calm, occasionally verging on flippancy. One reason for her family members' offhandedness regarding the topic may well be Di's own wilfulness and burgeoning sense of self. She proclaims with such conviction that she will not be 'snatched' that it indeed feels impossible that it could happen to her. 'New Year is the season of bride kidnapping,' her mother says. 'Mum means that if I am kidnapped, I must cope on my own,' Di adds. This Chekhovian statement laces the beauty present in Children of the Mist's landscapes with dread.
As with many oppressive marital practices, the line between bride kidnapping and human trafficking can be either blurred or non-existent. Although it is illegal (the minimum legal marriage age in the country is eighteen for girls and twenty for boys), it is reportedly common for Hmong youth to marry in their teens.[2]ibid. The regularity with which underage girls are kidnapped has contributed to a rise in human trafficking in Vietnam; official statistics record 2700 reported instances of the latter between 2011 and 2017, and it is widely assumed that these form only a minority of total cases.[3]Yen Duong, 'From Vietnam, Without Love', This Week in Asia, 17 June 2018, <https://www.scmp.com/week-asia/society/article/2151075/vietnam-without-love-child-brides-china>, accessed 12 October 2022. In some instances, boys become unwitting collaborators, lured in by traffickers with the promise of money in exchange for courting eventual victims.[4]See Kate Hodal, '"I Hope You're Ready to Get Married": In Search of Vietnam's Kidnapped Brides', The Guardian, 26 August 2017, <https://www.theguardian.com/global-development/2017/aug/26/ready-married-kidnapped-brides-vietnam-china>, accessed 12 October 2022.
Shooting over the course of three years, Hà – having first met and stayed with the family while participating in an artist residency – did not initially intend to make a film about the topic, instead seeking only to record Di's 'childlike delight and simplicity'.[5]Hà Lệ Diễm, quoted in Dan Tran, 'Hà Lệ Diễm: "Culture Is the Outer Flesh That Makes Up a Film."', SINdie, June 2022, <https://www.sindie.sg/2022/06/ha-le-diem-culture-is-outer-flesh-that.html>, accessed 12 October 2022. As the filming progressed and Di became a teenager, however, Hà admits that she became increasingly invested in the life of the girl she was recording: 'I was angry with [Di] sometimes, thinking she wasn't making the right choices for her future, drinking or flirting. But most of all, I felt I could lose my "little sister" at any moment.'[6]Hà Lệ Diễm, quoted in Marta Balaga, 'IDFA Best Director Winner Ha Le Diem Witnesses Bride Kidnapping in Children of the Mist', Variety, 25 November 2021, <https://variety.com/2021/film/global/ha-le-diem-children-of-the-mist-1235119865/>, accessed 12 October 2022.
It's at the New Year celebrations that we first meet Di's young abductor, Vang. Di has been messaging him on Facebook, and shots of the pair together suggest a budding romance despite the mist that claustrophobically blankets the setting. Vang, wielding a selfie stick, insists on photos of the occasion; for her part, Di looks at him with wary bemusement. Subsequently, Hà's handheld camera shows them walking hand in hand away from the festival down a hillside road. When the director asks from behind the camera if she should follow them, Vang turns and says that he is a decent man and would not kidnap Di; instead, he would simply ask her parents for permission to marry her. Hà holds the shot as they walk away, allowing the sinister undertones of the boy's words to creep in. The frame shakes, as though uncertain about where to look next.
Children of the Mist exists at the nexus of tradition and modernity, a tension felt acutely in cultures globally but particularly so in those underpinned by more conservative social practices. The pervasive influence of technology can be destabilising enough for young people in societies affluent enough to adapt to it,[7]See, for example, Nadine Whitney, 'Trapped in the Web: Untangling The Social Dilemma', Metro, no. 209, 2021, pp. 84–9, available at <https://metromagazine.com.au/trapped-in-the-web/>, accessed 28 November 2022. but that dynamic becomes even starker for a girl like Di, situated as she is in a world in which age-old customs exist alongside the ability to flirt with boys on social media. Similarly, the immediate social context of Di's life plays a major role in the events we see. Her parents have a tendency to drink excessively as a means of escape from the exhaustion of maintaining their farm and the stresses of poverty, a dynamic that seems to have engendered a headstrong, almost carefree, sense of independence in Di. But this illusion is shattered when it is revealed that Vang has, indeed, kidnapped her. What follows over the course of the remainder of the film uncovers just how much coercion, shame and guilt factor into this practice, and just how fraught and uncertain Di's future is rendered as a result.
At this point, Di's situation becomes a matter for others to negotiate. Vang's family is adamant that the couple must now marry, and in this they are in a position of leverage: custom requires them to pay a 'bride price' to Di's family, and, given their relatively higher socio-economic standing, this places immense pressure on Di's parents – in particular, her mother, who has seen the cost on both sides. 'When Di's mother was kidnapped, she already had another lover,' Hà explains. 'After she got married, he killed himself.'[8]Hà, quoted in Balaga, op. cit. What will the consequences be for Di if she does not marry Vang? Will she ever be able to marry, even for love? Or will she be seen as having lost her – and, thus, their – honour?
It also becomes clear that Vang is at the mercy of forces he can neither control nor fully understand. Not having been given the option to continue his schooling, he is expected to marry and start a family. Yet he still has all the makings of an apathetic teenager; nearly every moment he is on screen is defined by uncertainty. He has done something there is no walking back from, regardless of the outcome. Late in the film, when Hà – once more putting neutrality aside – asks him why he took Di away from her family, he is unable to explain his actions. 'I don't know why I kidnapped her,' he replies. 'I am still a child.'
Children of the Mist revels in these complex moments, pushing viewers to ask themselves uncomfortable questions. For instance, Vang emptily states his feelings for Di and claims he would treat her well as a husband; but would the situation be better if he was able to answer with conviction and genuinely believed he could give Di a good life? Such an outcome is not outside the realm of possibility: in any culture with marriage practices that (by Western standards, at least) offer little agency to participants, there are functional and even successful unions.[9]See Utpal Dholakia, 'Why Are So Many Indian Arranged Marriages Successful?', Psychology Today, 24 November 2015, <https://www.psychologytoday.com/au/blog/the-science-behind-behavior/201511/why-are-so-many-indian-arranged-marriages-successful>, accessed 28 November 2022. But any such spark of optimism is undercut by what we see of Di's home life, where her parents drunkenly berate each other, their disputes sometimes bordering on domestic abuse.
As Children of the Mist progresses, it becomes clear that class is as central to its themes as gender. Globally, rural communities are becoming more and more neglected as urban centres grow denser and sprawl out ever further. The lack of access to health, education and employment in these areas places brutal limits on young people, especially at a time when opportunities are shrinking, even in wealthy countries. And life is often dangerous: Hà notes in the film's press materials that one of Di's schoolmates was raped and murdered while walking to school.[10]See Hà Lệ Diễm, 'Director's Statement', Varan Vietnam, Children of the Mist press kit, 2021, p. 2. With limited government presence in the region – Vietnamese authorities largely allow Hmong and other ethnic groups a degree of self-­administration, ostensibly out of respect for cultural differences – community intervention is often left to local teachers, who constitute some of the few centralised, grounding presences in the region. Given such unstable environmental, social and economic prospects, Di's potential marriage is just one of many politicised obstacles she will face. It seems almost incomprehensible that the girl we first met as a pre-teen could weather such an ordeal.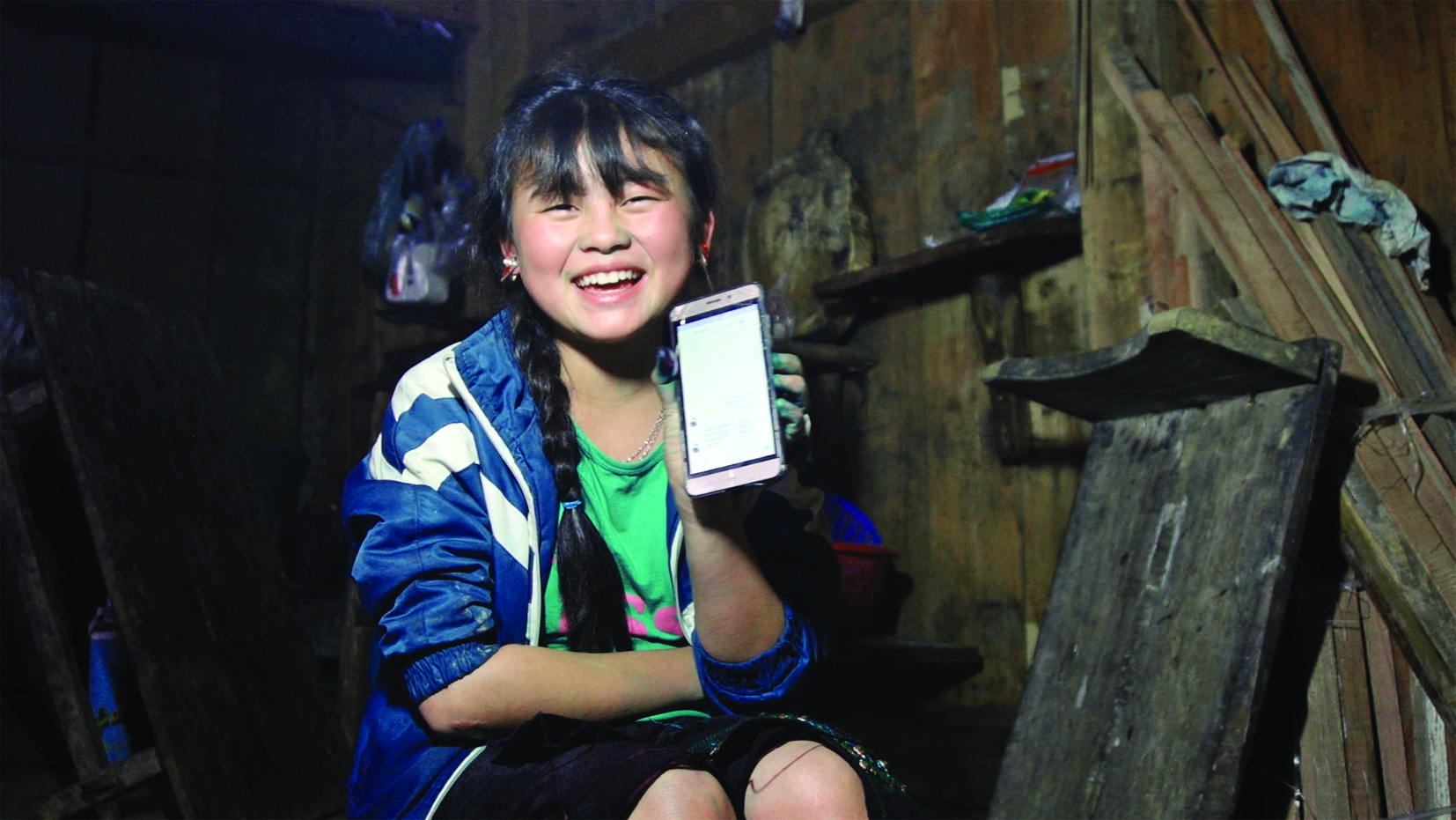 The film reaches its most horrifying moment near its end, when Vang's family members arrive at Di's home and drag her away. She kicks and screams, trying to resist yet another – this time, forceful – kidnapping. While she has been vocally against going through with the marriage for much of the film, it's only now that she loses composure and that we see her fear take hold. The scene is heart-wrenching to watch, and surely was even more so for Hà to film – indeed, we hear her call out to Di's mother from behind the camera, begging her to intervene. Eventually, the would-be abductors relent, and Di and Vang each drink a shot to confirm that the marriage plans have been abandoned.
Children of the Mist is of a piece with the increased presence of female filmmakers in Asian cinema and on global festival circuits, sitting alongside recent South-East Asian feature films directed by women such as The Third Wife (Ash Mayfair, 2018) and Yuni (Kamila Andini, 2021). The fact that the documentary was shot over such a long period – presumably accumulating hours of unused footage along the way – makes its narrative economy and coherence, even in its slower stretches, remarkable. Much of this achievement can be credited to French-born editor Swann Dubus, whose work here gives Children of the Mist a more accessible flavour for Western audiences. But Hà's is the integral creative voice of the film, centring, clarifying and occasionally sparring with Di's onscreen presence, and she deservedly received the Best Director award at the 2021 International Documentary Film Festival Amsterdam.
The trust Hà was able to gain from her subjects over the course of making the film gives Children of the Mist a deeply personal feeling, and its intimacy – how revealing it is of Di and her family and their lives – imparts an evident passion and care to the images. This can, it must be said, at times feel like an encumbrance: there's a tension between the layer of the film that is about Di and her impossible situation and the supplementary narrative of Hà's approach to, and involvement in, the story.[11]Hà doesn't shy away from her position as a non-neutral observer. Describing her intentions in the film's press materials, she explains, 'I thought the camera could also be used as a defensive weapon as I had previously noticed that the tension and the violence was refrained when I was filming […] Above all, I wanted to keep on using the camera as a go-between to understand deeper Hmong society and interact with them.' ibid. Nonetheless, Children of the Mist is an astonishing first film, and portends a bright career to come for its director.
Documentaries that are this insightful, incisive and bold about such challenging subjects can often become obscured by the circumstances of their creation; instead, Hà has made use of that complexity and brought an under-explored subject to light. By the end of the film, one cannot help but wonder what might have happened to Di had the world not been able to watch.
Endnotes

| | |
| --- | --- |
| 1 | A tradition in which women and girls, some as young as twelve, are abducted and forcibly married. See Brendan Rigby, 'Vietnam: The Burden of Being a Child Bride', Girls Not Brides website, 28 May 2013, <https://www.girlsnotbrides.org/articles/the-burden-of-being-a-child-bride-in-vietnam/>, accessed 28 November 2022. |
| 2 | ibid. |
| 3 | Yen Duong, 'From Vietnam, Without Love', This Week in Asia, 17 June 2018, <https://www.scmp.com/week-asia/society/article/2151075/vietnam-without-love-child-brides-china>, accessed 12 October 2022. |
| 4 | See Kate Hodal, '"I Hope You're Ready to Get Married": In Search of Vietnam's Kidnapped Brides', The Guardian, 26 August 2017, <https://www.theguardian.com/global-development/2017/aug/26/ready-married-kidnapped-brides-vietnam-china>, accessed 12 October 2022. |
| 5 | Hà Lệ Diễm, quoted in Dan Tran, 'Hà Lệ Diễm: "Culture Is the Outer Flesh That Makes Up a Film."', SINdie, June 2022, <https://www.sindie.sg/2022/06/ha-le-diem-culture-is-outer-flesh-that.html>, accessed 12 October 2022. |
| 6 | Hà Lệ Diễm, quoted in Marta Balaga, 'IDFA Best Director Winner Ha Le Diem Witnesses Bride Kidnapping in Children of the Mist', Variety, 25 November 2021, <https://variety.com/2021/film/global/ha-le-diem-children-of-the-mist-1235119865/>, accessed 12 October 2022. |
| 7 | See, for example, Nadine Whitney, 'Trapped in the Web: Untangling The Social Dilemma', Metro, no. 209, 2021, pp. 84–9, available at <https://metromagazine.com.au/trapped-in-the-web/>, accessed 28 November 2022. |
| 8 | Hà, quoted in Balaga, op. cit. |
| 9 | See Utpal Dholakia, 'Why Are So Many Indian Arranged Marriages Successful?', Psychology Today, 24 November 2015, <https://www.psychologytoday.com/au/blog/the-science-behind-behavior/201511/why-are-so-many-indian-arranged-marriages-successful>, accessed 28 November 2022. |
| 10 | See Hà Lệ Diễm, 'Director's Statement', Varan Vietnam, Children of the Mist press kit, 2021, p. 2. |
| 11 | Hà doesn't shy away from her position as a non-neutral observer. Describing her intentions in the film's press materials, she explains, 'I thought the camera could also be used as a defensive weapon as I had previously noticed that the tension and the violence was refrained when I was filming […] Above all, I wanted to keep on using the camera as a go-between to understand deeper Hmong society and interact with them.' ibid. |