Cinemas have been called the 'temples' of postcolonial India.[1]See, for example, Chidananda Das Gupta, 'The Painted Face of Politics: The Actor Politicians of South India', in Wimal Dissanayake (ed.), Cinema and Cultural Identity: Reflections on Films from Japan, India, and China, University Press of America, Lanham, MD, 1988, p. 130. Sites of a new kind of devotion and pilgrimage, they have become places for devotees to congregate and share experiences of transcendence,[2]See Ravi Vasudevan, The Melodramatic Public: Film Form and Spectatorship in Indian Cinema, Palgrave Macmillan, New York, 2011. or the possibility of a redemptive history.[3]See Antonina Łuszczykiewicz, 'Dealing with the Colonial Past: The Image of the British Rule in India in 21st Century Hindi Cinema', Politeja, vol. 16, no. 2, 2019, pp. 123–38. These 'temples of desire'[4]See Vijay Mishra, Bollywood Cinema: Temples of Desire, Routledge, New York & London, 2002. are not holy places set apart from the rest of the world, but parts of a complex whole that remain in intimate interconnection with – to use a term employed by Indologist Diana L Eck – the nation's 'sacred geography'.[5]As Eck observes, India is 'a living landscape in which mountains, rivers, forests, and villages are elaborately linked to the stories of the gods and heroes. The land bears the traces of the gods and the footprints of the heroes. Every place has its story, and conversely, every story in the vast storehouse of myth and legend has its place. This landscape not only connects places to the lore of gods, heroes, and saints, but it connects places to one another through local, regional, and transregional practices of pilgrimage.' Diana L Eck, India: A Sacred Geography, Harmony Books, New York, 2012, pp. 4–5. Ideally, these spaces offer the possibility that, in spite of India's ethnic, linguistic, religious, caste and regional divisions, people can be brought together to perform rituals of storytelling and enshrine the nation's narratives and imagery.
Although India is constitutionally a secular democratic republic – its ostensible commitment to 'unity in diversity' meaning that there can be no official religion or state-sanctioned creed[6]See Sudarsan Padmanabhan, 'Unity in Diversity: The Indian Cosmopolitan Idea', in Gerard Delanty (ed.), Routledge Handbook of Cosmopolitanism Studies, Routledge, Abingdon, UK, pp. 463–76. – Hindu nationalism (Hindutva) and neoliberalism have nonetheless become increasingly intertwined and ascendant.[7]See Meera Nanda, The God Market: How Globalization Is Making India More Hindu, Monthly Review Press, New York, 2011, pp. 12–60. India has thereby witnessed the rise of a politicised religiosity,[8]See Bidyut Chakrabarty & Bhuwan Kumar Jha, Hindu Nationalism in India: Ideology and Politics, Routledge, New York, 2020. a process aided by Indian cinema.[9]See Rachel Dwyer, 'New Myths for an Old Nation: Bollywood, Soft Power and Hindu Nationalism', in Stephanie Dennison & Dwyer (eds), Cinema and Soft Power: Configuring the National and Transnational in Geo-politics, Edinburgh University Press, Edinburgh, 2021, pp. 190–209. Many recent Indian films[10]Some notable examples include Bãhubali: The Beginning (SS Rajamouli, 2015), Bajirao Mastani (Sanjay Leela Bhansali, 2015), Manikarnika: The Queen of Jhansi (Radha Krishna Jagarlamudi & Kangana Ranaut, 2019), Tanhaji: The Unsung Warrior (Om Raut, 2020) and The Kashmir Files (Vivek Agnihotri, 2022). have served as exercises in soft power,[11]The term 'soft power' was coined by American political scientist Joseph S Nye Jr to denote politics' capacity to coopt (that is, entice or seduce), in contrast with the coercive control exerted by 'hard power'. See Nye, 'Soft Power', Foreign Policy, no. 80, Autumn 1990, pp. 153–71. and increasingly politicised films have sought to convert viewers through the bully pulpit of the screen.[12]See, for example, Sowmya Rajendran, 'How Blockbuster Films Are Aiding the Hindutva Nationalism Project', The News Minute, 6 April 2022, <https://www.thenewsminute.com/article/how-blockbuster-films-are-aiding-hindutva-nationalism-project-162635>; and Husaina Husain, 'Bollywood and Politics: The BJP's Increasing Influence on Movies', INKspire, 14 December 2020, <https://inkspire.org/post/bollywood-and-politics-the-bjps-increasing-influence-on-movies/-MMhobXiq01Bdo4Ub3JN>, both accessed 16 November 2022.
The rapturous international response[13]See Pranita Chaubey, 'The RRR Global Domination Continues. "What a Ride," Tweeted Dune Screenwriter', ndtv.com, 13 July 2022, <https://www.ndtv.com/entertainment/the-rrr-global-domination-continues-what-a-ride-tweeted-dune-screenwriter-3154215>, accessed 2 January 2023. to India's RRR[14]The title's initialism refers to the Telugu words Raudra, Raa and Rudhira, meaning 'rage', 'war' and 'blood', respectively. It has been alternatively represented in English-language publicity material as 'Rise, Roar, Revolt'. (SS Rajamouli, 2022) is a reminder that it is possible for indigenous films to transcend cultural and linguistic barriers. To some extent, the possibility of 'transcendence' was intentional: the Tollywood[15]A term referring to the Telugu-language film industry, in contrast with the Hindi-speaking, Mumbai-based film industry commonly known as Bollywood. production belongs to a nascent pan-Indian cinema,[16]See Arushi Bhaskar, 'Explained: The Phenomenon of "Pan-Indian" Films, Their Spread and Success', The Indian Express, 22 July 2022, <https://indianexpress.com/article/explained/explained-the-phenomenon-of-pan-indian-films-their-spread-and-success-8043343/>, accessed 16 November 2022. having been simultaneously released domestically in multiple languages (Tamil, Malayalam, Kannada and Hindi, as well as its original language, Telugu) in an attempt to reach and unite as many culturally diverse people within India as possible. The Hindi-dubbed[17]See 'SS Rajamouli Says He Is "Angry" with Netflix for Only Releasing Hindi Version of RRR: "I Have a Complaint Against Them"', Hindustan Times, 30 July 2022, <https://www.hindustantimes.com/entertainment/telugu-cinema/ss-rajamouli-is-angry-with-netflix-for-only-releasing-hindi-version-of-rrr-101659175302393.html>, accessed 2 January 2023. release on Netflix – combined with international word of mouth – spread the gospel further, across national borders and social networks.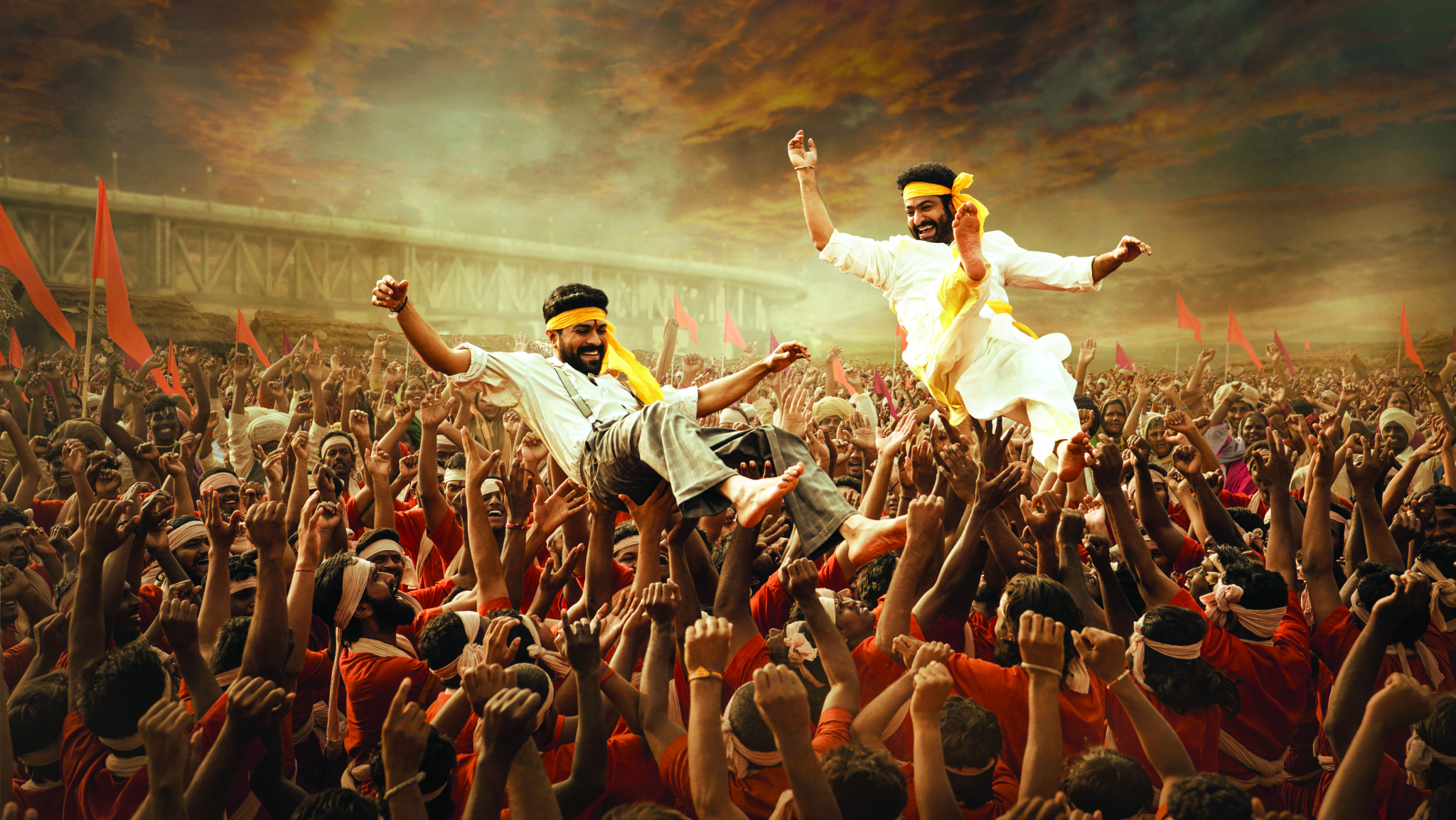 RRR announces its pan-Indianism from the outset with an extraordinary (if disingenuous) disclaimer: that the filmmakers 'have no intention whatsoever of hurting anyone's sentiments or disrespecting any traditions or maligning the beliefs of any individual or group'. There is an equally extraordinary second disclaimer: in case there was any confusion or cause for concern, the film wants to also reassure audiences that no living creatures were harmed during its production, and that 'all animals and birds […] shown in the movie are computer generated' – including, in one of the film's many instances of cathartic violence, the leopard thrown at a British soldier so as to maul him to death. Significantly, the disclaimer does not include viewers' intelligence in its list of potentially offended or injured parties.
The anti-colonial superhero film is a heartfelt bromance between two real-life revolutionaries: Alluri Sitarama Raju, of the Kshatriya (warrior) caste; and Komaram Bheem, a Gond tribal leader living outside the Hindu caste system as a follower of the Koya Punem (literally, 'way of nature') faith.[18]See Rosemary Marandi, 'Living in the Shadow of Rebellion: India's Gond Tribe', Al Jazeera, 21 January 2021, <https://www.aljazeera.com/features/2021/1/21/living-in-the-shadow-of-insurgency-indias-gond-tribe>, accessed 28 December 2022. Raju and Bheem never met in real life, and fought against distinct colonial rulers in India (the British Raj and the Islamic Nizams of Hyderabad, respectively). RRR, however, wants us to entertain an alternate history – one in which Raju (Ram Charan Teja) and Bheem (NT Rama Rao Jr) join forces and triumph over a common enemy, the British Empire (as represented by the dastardly governor and his vicious wife, played by Irish actors Ray Stevenson and Alison Doody, who share moustache-twirling duties). The historical epic is completely sincere in its deference to cartoon villains and heroes with superhuman powers: many of the film's scenes are infused with genuine religious fervour and historical antipathy. Writer/director Rajamouli's approach was inspired by tropes and figures originating in the ancient Sanskrit texts Rāmāyana and Mahābhārata – foundational Hindu epics reimagined and popularised in the Amar Chitra Katha comic series.[19]See Suparna Sharma, 'Indian Director Rajamouli Scores a Global Hit with New Film RRR', Al Jazeera, 30 April 2022, <https://www.aljazeera.com/news/2022/4/30/indian-director-ss-rajamouli-rrr-film-teluga-cinema>, accessed 16 November 2022.
Despite RRR's cultural specificity, it has been met with a rave reception around the world (as encapsulated by one review's hyperbolic title: 'RRR Is Pure Awe, Wonder, and Spectacle in Cinematic Form'[20]Rob Hunter, 'RRR Is Pure Awe, Wonder, and Spectacle in Cinematic Form', Film School Rejects, 5 April 2022, <https://filmschoolrejects.com/rrr-review/>, accessed 16 November 2022.). The film therefore raises the question: How has such an over-the-top, nationalistic representation of history been able to transcend its sense of time and place and galvanise audiences around the world? RRR's cultural significance appears to have gotten lost in translation, or transit: the film was, according to Rajamouli, primarily inspired by The Motorcycle Diaries (Walter Salles, 2004),[21]See 'RRR Is Fictitious Story Based on Two Greatest Freedom Fighters', New Indian Express, 15 March 2019, <https://www.newindianexpress.com/entertainment/telugu/2019/mar/15/rrr-is-fictitious-story-based-on-two-greatest-freedom-fighters-1951300.html>, accessed 28 December 2022. a much more grounded biopic – based on the posthumously published memoir of the same name – about the gradual radicalisation of future Marxist revolutionary Ernesto 'Che' Guevara.
It's difficult not to regard Rajamouli's claim, however, with incredulity. The Motorcycle Diaries is about the consciousness-raising of two middle-class students, Ernesto (Gael García Bernal) and his friend Alberto Granado (Rodrigo de la Serna), travelling across South America – a journey that opens their eyes to the poverty, exploitation and suffering of the continent's most oppressed inhabitants. The Motorcycle Diaries goes to great lengths to humanise its two leads and differentiate the many downtrodden people encountered on their fateful road trip. RRR, on the other hand, approaches its two main protagonists – and India's long-suffering populace more broadly – from the opposite direction: its aim is to mythologise (or deify) two human beings, while a historically differentiated people similarly burdened by British colonialism are primarily seen as an undifferentiated mob requiring divine salvation. It's true that a motorcycle makes a diary-worthy appearance, but not as a metaphor for a transformative journey – instead, it's transformed into a weapon, wielded by one of our superheroes as if it were a sabre, and (like the leopard) flipped and thrown full-throttle at another British villain.
As Guevara observes in his memoir, the tale he recounts 'is not a story of heroic feats'[22]Ernesto 'Che' Guevara, The Motorcycle Diaries: Notes on a Latin American Journey, trans. Alexandra Keeble, Ocean Press, Melbourne & New York, 2004, p. 31. but of two increasingly humbled travellers who end up questioning 'how long this present order, based on an absurd idea of caste, will last'.[23]ibid., p. 70. RRR, though, is not interested in class struggle, human equality or challenging India's social hierarchy. Rather, by purporting to unify India under a homogenised and hegemonic cultural identity via an incitement to – and sanctification of – violence against perceived enemies,[24]See Prabhat Patnaik, 'The Fascism of Our Times', Social Scientist, vol. 21, no. 3/4, March/April 1993, pp. 69–77. the film is proselytising the ideology of the Hindutva movement. What makes the comparison of RRR and The Motorcycle Diaries particularly galling is the alignment[25]See Anjan Chakrabarti, Anup Dhar & Sayonee Majumdar, 'India's Transition: A New Complex of Capitalism and Hindu Nationalism', in Ino Rossi (ed.), Challenges of Globalization and Prospects for an Inter-civilizational World Order, Springer Nature, Cham, Switzerland, 2021, pp. 503–30. between the Hindutva movement and the same dominant and exploitative economic order that Marxists like Guevara revolted against: free-market capitalism, which both reinforces India's existing caste system[26]See Suprakash Majumdar, 'With Religious Tensions Worsening in India, Understanding Caste Is More Urgent than Ever', TIME, 6 April 2022, <https://time.com/6156124/india-hindu-muslim-caste/>, accessed 28 December 2022. and exacerbates racial tensions.[27]See Balmurli Natrajan, 'Racialization and Ethnicization: Hindutva Hegemony and Caste', in Jesús F Cháirez-Garza et al. (ed.), Rethinking Difference in India Through Racialization: Caste, Tribe, and Hindu Nationalism in Transnational Perspective, Routledge, New York, 2023, pp. 128–48.
Unequal partners
RRR's overarching goal is to appropriate and weaponise Indian history itself, and is a cinematic appeal for national unity and nation-building under the Hindutva rallying banner. Rajamouli's film summons viewers to action via a symphonic ensemble of emotion and violence, and the symphony has two primary movements: over-the-top and relentless.
The inciting incident of RRR is the kidnapping of a Gond child in a forest by British authorities. An obvious allegory for colonial conquest and occupation this may be, but its incitement to rise, roar and revolt is more pretext than text. The kidnapping takes up a mere four minutes of RRR's forty-minute prologue, and the film's title doesn't even appear until its real protagonists and emotional stakes have subsequently been established.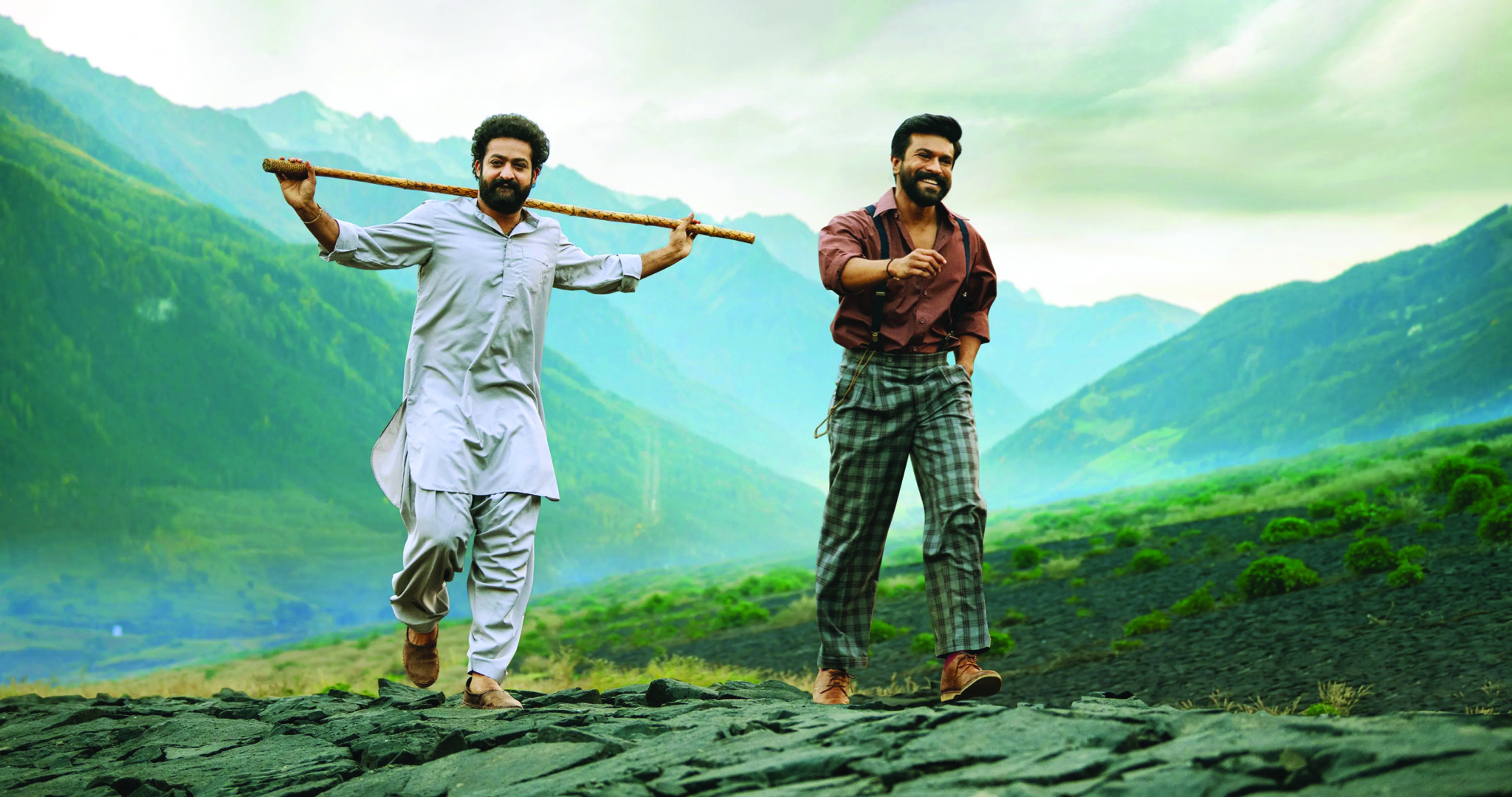 We are first introduced to Raju, an imperial police officer tasked with arresting a rioter demanding the release of real-life independence activist Lala Lajpat Rai.[28]See '"Last Nails in the Coffin of British Rule": Remembering Lala Lajpat Rai on His Death Anniversary', The Indian Express, updated 17 November 2019, <https://indianexpress.com/article/explained/british-rule-remembering-lala-lajpat-rai-on-his-death-anniversary-6124363/>, accessed 27 December 2022. It is quickly established that he is no ordinary lawman – he single-handedly takes on an unruly crowd of thousands to arrest one troublemaker. Raju is subsequently given another assignment: to go undercover as a civilian to track down Bheem, a Gond leader posing as a Muslim in order to search for the missing child.
In the following sequence, we are introduced to Bheem, and it is immediately apparent that this is no ordinary man either; initially using himself as live bait to lure a wolf into a trap, he ends up wrestling a Bengal tiger. The two equally fearless men, each deep undercover, fatefully encounter each other on a bridge, where they come together to rescue another child: a boy trapped in a river by falling, burning railway wagons. Raju and Bheem, explicitly identified throughout the film with the respective opposing elements of fire and water, rise to the occasion: after locking eyes across the divide, Raju mimes an elaborate rescue plan to Bheem; both men immediately spring into action, coordinating their actions without a word.
The brothers-in-arms' rescue is intended as a conciliatory gesture – in the guises of respectively Hindu and Muslim civilians, they are able to reach out to each other and transcend their linguistic, religious and cultural differences by working towards a common goal. Within the context of the film's salvation narrative, however, such cooperation can only be viewed as a sly tactical manoeuvre. In the world of the film, India's Muslim population is perceived as complicit in their own oppression; as they supposedly offer no threat to British colonial rule, taking on such an identity provides the perfect cover for Bheem's subversive activities. To add insult to injury, while posing as a peace-loving Muslim, Bheem loses sight of himself and his sacred mission; he falls for the British governor's niece, Jennifer (Olivia Morris), and prostrates himself before the colonisers. Consequently, Islam's historical role in securing India's independence is being erased in real time – evidenced by the absence of Muslims in the final battle hymn's 'hall of fame', in which various anti-colonial freedom fighters appear on screen.[29]See Ritesh Babu, 'RRR Is an Incredible Action Movie with Seriously Troubling Politics', Vox, 20 July 2022, <https://www.vox.com/23220275/rrr-netflix-tollywood-hindutva-caste-system>, accessed 27 December 2022. Equally missing in action during RRR's cherrypicked memorial is the role that ahimsa (the principle of nonviolence), as advocated by anti-colonial nationalist Mahatma Gandhi, played in securing India's swarāj (self-rule).[30]See Ajay Skaria, 'Thinking with Gandhi on Racism and Violence: A Letter to a Friend', ABC News, updated 7 July 2020, <https://www.abc.net.au/religion/thinking-with-gandhi-on-racism-and-violence/12424422>, accessed 27 December 2022. Despite being commonly known in India as Bapu, or 'the father of the nation', Gandhi himself is conspicuously absent during RRR's celebration of the motherland.
It's no coincidence either that the upper-caste Hindu warrior is the one taking charge from the outset, while the Gond leader (and pretend Muslim pacifist) typically takes the subordinate role. Although RRR is espousing a 'united we stand, divided we fall' message, it is also careful to delineate a hierarchical relationship and division of labour, allocating Bheem and Raju the respective roles of brute strength and higher intelligence, student and teacher, country bumpkin and man about town. This aspect of the film's politics is visually reinforced by Bheem's tendency to give Raju piggyback rides; and when the friends reunite for a morally uplifting rampage, Bheem does the heavy lifting while Raju rides shotgun in a makeshift superstructure. The film is not above a bit of cultural appropriation, either: Raju is given credit for his Gond comrade's famous revolutionary slogan ('water, forest and land') and shown inscribing it on a flag signifying opposition to colonial encroachment and exploitation. This intrusion on the tribal leader's territory happens straight after the deferential and supposedly illiterate Bheem – whose real-life counterpart was able to speak and read several languages[31]See Akash Poyam, 'Komaram Bheem: A Forgotten Adivasi Leader Who Gave the Slogan "Jal Jangal Jameen"', Adivasi Resurgence, 16 October 2016, <http://adivasiresurgence.com/2016/10/16/komaram-bheem-a-forgotten-adivasi-leader-who-gave-the-slogan-jal-jangal-jameen/>, accessed 27 December 2022. – bends a metaphorical knee to his Hindu superior and asks him, 'Teach me how to read and write, brother.'[32]See Akash Poyam, 'Identity Theft: SS Rajamouli's Dehumanising Portrayal of the Gond Community', The Caravan, 1 May 2022, <https://caravanmagazine.in/film/rajamouli-dehumanising-gond-rrr>, accessed 27 December 2022.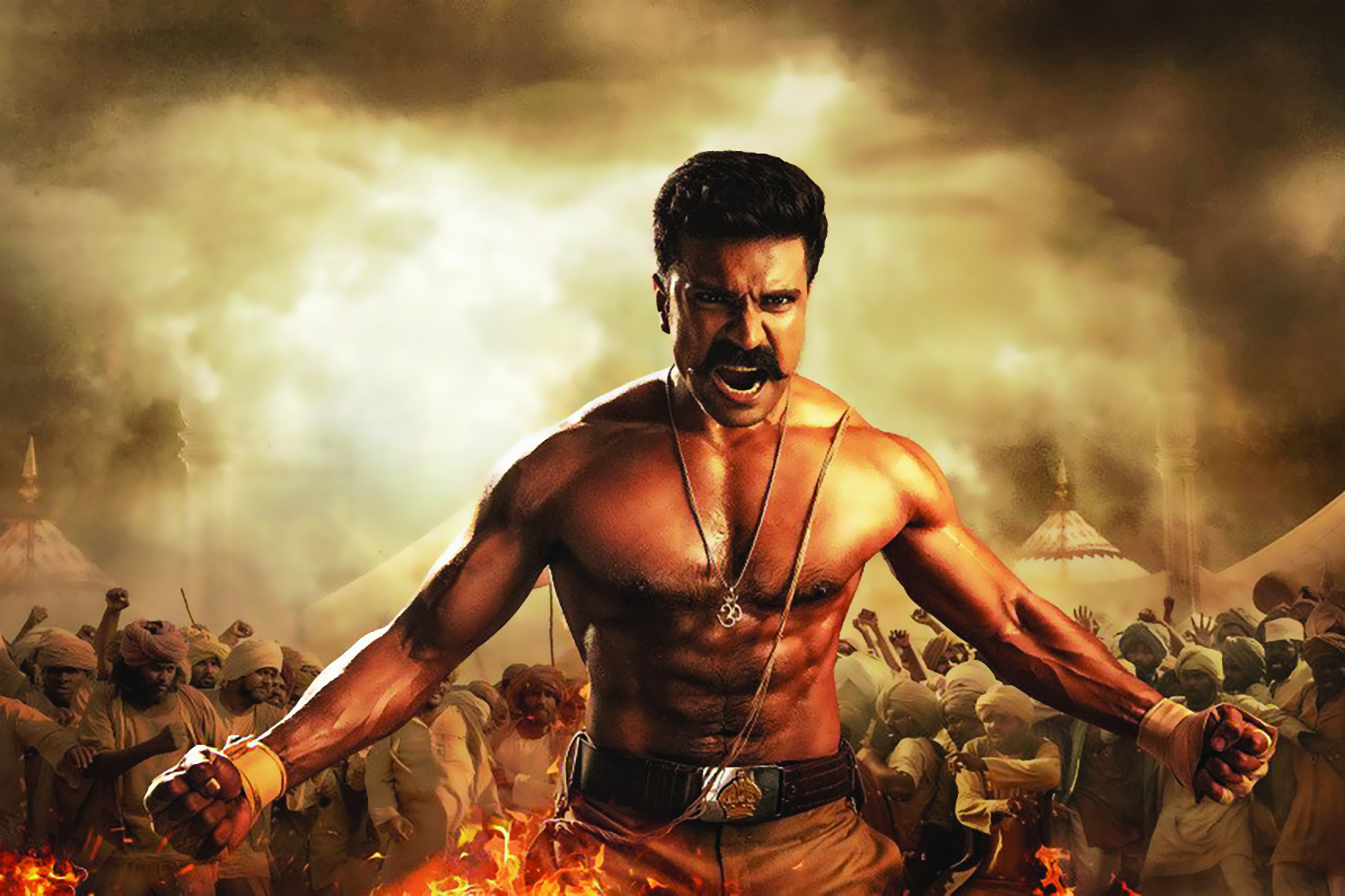 RRR's insidious revisions and erasures also extend to its attempt to downplay historical Hindu complicity in colonial domination and exploitation.[33]See Roderick Matthews, Peace, Poverty and Betrayal: A New History of British India, Hurst & Company, London, 2021. The film does its best to remove all traces of this inconvenient truth, although some remain readily on display: the Hindu policeman Raju, for instance, like many other Indians of the time, clearly collaborates with his British colonisers to consolidate his own position. Otherwise, there is little sign in the film of the historical alliance between British administrators and the colony's rich and powerful Hindu elite that formed the basis for India's current social order: namely, the conversion of the once relatively fluid caste system (consisting of inherited roles, positions and relationships) into fixed status hierarchies with restricted social mobility.[34]As anthropologist Nicholas B Dirks notes, '"Caste" became a single term capable of expressing, organizing, and above all "systematizing" India's diverse forms of social identity, community, and organization. This was achieved through an identifiable (if contested) ideological canon as the result of a concrete encounter with colonial modernity during two hundred years of British domination.' See Dirks, Castes of Mind: Colonialism and the Making of Modern India, Princeton University Press, Princeton, NJ, 2001, p. 5. While Dirks observes that the (modern) caste system was 'invented' and administered by British colonisation, fellow anthropologist Harald Tambs-Lyche offers a more stratified approach to investigating the 'enigma' of a still-evolving caste system predating Western (re)invention and administration; see Tambs-Lyche, Transactions and Hierarchy: Elements for a Theory of Caste, Routledge, Abingdon, UK & New York, 2018, pp. 1–3.
Western audiences might otherwise be forgiven for assuming that Bheem is the hero of RRR and Raju is the villain, given their apparent loyalties to respectively marginalised and privileged identities. Rajamouli, however, clearly has another cast of mind. Inevitably, one-time collaborator Raju is revealed to be a double agent playing the long game, merely pretending to serve the British Empire in order to gain access to weapons to arm a continent lying in wait; he is a big-picture thinker biding his time and willing to sacrifice supposedly lesser Indians for the greater good. Although Raju's friendship with Bheem makes him reconsider his 'end justifies the means' approach, the film ultimately justifies his ethical stance by taking a giant leap of faith. Their relationship is transported into – and explained within – the mythological realm, where they are finally revealed to be avatars for Hindu deities (Lord Rama and his dutiful servant Hanuman) during a ballet of redemptive violence.
Dance revolution
RRR is almost entirely reliant on its remarkable set pieces and rhythms of violence to elucidate its themes and characters. The narrative's guiding principle is the role of providential design in India's history, or the 'unforeseen turn of fate' that brings its main protagonists together. The narrative circles around the question of whether these new best friends will turn on one another when they discover each other's true identity. Despite this, the film's two best scenes are relatively subdued, bringing its themes to a head while managing to keep the carnage to a minimum. The first sequence (set to the song 'Naatu Naatu') is an exhilarating dance showdown between the colonisers and the colonised. While he is being taught to waltz at a party, a disguised Bheem is tripped up by a supposedly 'civilised' British brute who decries his lack of 'art' and 'finesse' before Raju comes to his rescue. The ensuing dance battle celebrates unity through the power of rhythmic movement, and shows how synchronisation can defeat anyone intent on undermining the Indian people; in the process, the sequence unleashes powerful emotions – including feelings of rivalry, camaraderie and pride in Indian culture – in a controlled and upbeat manner.
The second sequence (framed around the song 'Komuram Bheemudo') occurs when a seemingly irreparable rupture has emerged in Raju and Bheem's friendship: they have learned each other's true identities and goals, and the discovery reveals the broader fault lines of Indian society – the differing loyalties, obligations and objectives of its various peoples and classes. A conflicted Raju has been tasked with demonstrating the power of the Crown, or how India's public servants enable it to maintain its hold over the populace, by publicly whipping an incarcerated Bheem within an inch of his life. The desired outcome is that Bheem's spirit be broken through bodily disfigurement and trauma – to literally bring him to his knees and make him beg for mercy. The forest dweller, however, answers to a higher calling: his spiritual relationship with the land, which makes its presence felt during the merciless whipping he endures. Finding himself uplifted by the wind, he calls on others to 'stoke the fire in [their] heart' and 'burn like the flaming sun'. The sequence is moving in how it briefly inverts the two men's power dynamic: Bheem's refusal to kneel whips everyone into a frenzy, and Raju realises that Bheem – or, at least, the fury that he unleashes with his song of defiance – is the weapon he has been looking for all along. The man associated with fire finds his own fire stoked, and is similarly carried away.
It is a testament to Rajamouli's talent that, over its three-hour running time, RRR manages to sustain its momentum, maintain its assault on our senses and frequently top itself. Two further songs mark the film's beginning and ending: the first, 'Komma Uyala', is an ode to maternity that accompanies the Gond girl's abduction; while the second, 'Etthara Jenda', is a jingoistic battle hymn to the motherland. At the conclusion of the latter, as if he has been compelled by the previous 180 minutes' incessant flag-waving and beating of war drums to break the fourth wall, Rajamouli emerges from behind the camera to exhort viewers to 'let the show begin; let it vibrate, my folks; dance to the beats as the rhythm resonates'.
Although RRR purports to adopt an anti-colonial position, its ideological stance remains complicit in the colonised consciousness it is supposedly rising against. Specifically, the film owes its very existence to colonisation: its use of cinema as a bully pulpit is the direct result of colonial contact and appropriation.[35]See Pamela Hutchinson, 'The Birth of India's Film Industry: How The Movies Came to Mumbai', The Guardian, 25 July 2013, <https://www.theguardian.com/film/2013/jul/25/birth-indias-film-industry-movies-mumbai>, accessed 27 December 2022. While it is obviously true that the country's filmmakers have adapted the artform to specific – and potentially contradictory or competing – needs and concerns, the power of Indian cinema nonetheless speaks to the ongoing fallout from colonial occupation. That cultural situation is evident in the Hindutva movement's ascendancy, and it is equally so in RRR: a film that helps colonise a nation's lifeworlds via the steering media of capital and soft power.
Endnotes

| | |
| --- | --- |
| 1 | See, for example, Chidananda Das Gupta, 'The Painted Face of Politics: The Actor Politicians of South India', in Wimal Dissanayake (ed.), Cinema and Cultural Identity: Reflections on Films from Japan, India, and China, University Press of America, Lanham, MD, 1988, p. 130. |
| 2 | See Ravi Vasudevan, The Melodramatic Public: Film Form and Spectatorship in Indian Cinema, Palgrave Macmillan, New York, 2011. |
| 3 | See Antonina Łuszczykiewicz, 'Dealing with the Colonial Past: The Image of the British Rule in India in 21st Century Hindi Cinema', Politeja, vol. 16, no. 2, 2019, pp. 123–38. |
| 4 | See Vijay Mishra, Bollywood Cinema: Temples of Desire, Routledge, New York & London, 2002. |
| 5 | As Eck observes, India is 'a living landscape in which mountains, rivers, forests, and villages are elaborately linked to the stories of the gods and heroes. The land bears the traces of the gods and the footprints of the heroes. Every place has its story, and conversely, every story in the vast storehouse of myth and legend has its place. This landscape not only connects places to the lore of gods, heroes, and saints, but it connects places to one another through local, regional, and transregional practices of pilgrimage.' Diana L Eck, India: A Sacred Geography, Harmony Books, New York, 2012, pp. 4–5. |
| 6 | See Sudarsan Padmanabhan, 'Unity in Diversity: The Indian Cosmopolitan Idea', in Gerard Delanty (ed.), Routledge Handbook of Cosmopolitanism Studies, Routledge, Abingdon, UK, pp. 463–76. |
| 7 | See Meera Nanda, The God Market: How Globalization Is Making India More Hindu, Monthly Review Press, New York, 2011, pp. 12–60. |
| 8 | See Bidyut Chakrabarty & Bhuwan Kumar Jha, Hindu Nationalism in India: Ideology and Politics, Routledge, New York, 2020. |
| 9 | See Rachel Dwyer, 'New Myths for an Old Nation: Bollywood, Soft Power and Hindu Nationalism', in Stephanie Dennison & Dwyer (eds), Cinema and Soft Power: Configuring the National and Transnational in Geo-politics, Edinburgh University Press, Edinburgh, 2021, pp. 190–209. |
| 10 | Some notable examples include Bãhubali: The Beginning (SS Rajamouli, 2015), Bajirao Mastani (Sanjay Leela Bhansali, 2015), Manikarnika: The Queen of Jhansi (Radha Krishna Jagarlamudi & Kangana Ranaut, 2019), Tanhaji: The Unsung Warrior (Om Raut, 2020) and The Kashmir Files (Vivek Agnihotri, 2022). |
| 11 | The term 'soft power' was coined by American political scientist Joseph S Nye Jr to denote politics' capacity to coopt (that is, entice or seduce), in contrast with the coercive control exerted by 'hard power'. See Nye, 'Soft Power', Foreign Policy, no. 80, Autumn 1990, pp. 153–71. |
| 12 | See, for example, Sowmya Rajendran, 'How Blockbuster Films Are Aiding the Hindutva Nationalism Project', The News Minute, 6 April 2022, <https://www.thenewsminute.com/article/how-blockbuster-films-are-aiding-hindutva-nationalism-project-162635>; and Husaina Husain, 'Bollywood and Politics: The BJP's Increasing Influence on Movies', INKspire, 14 December 2020, <https://inkspire.org/post/bollywood-and-politics-the-bjps-increasing-influence-on-movies/-MMhobXiq01Bdo4Ub3JN>, both accessed 16 November 2022. |
| 13 | See Pranita Chaubey, 'The RRR Global Domination Continues. "What a Ride," Tweeted Dune Screenwriter', ndtv.com, 13 July 2022, <https://www.ndtv.com/entertainment/the-rrr-global-domination-continues-what-a-ride-tweeted-dune-screenwriter-3154215>, accessed 2 January 2023. |
| 14 | The title's initialism refers to the Telugu words Raudra, Raa and Rudhira, meaning 'rage', 'war' and 'blood', respectively. It has been alternatively represented in English-language publicity material as 'Rise, Roar, Revolt'. |
| 15 | A term referring to the Telugu-language film industry, in contrast with the Hindi-speaking, Mumbai-based film industry commonly known as Bollywood. |
| 16 | See Arushi Bhaskar, 'Explained: The Phenomenon of "Pan-Indian" Films, Their Spread and Success', The Indian Express, 22 July 2022, <https://indianexpress.com/article/explained/explained-the-phenomenon-of-pan-indian-films-their-spread-and-success-8043343/>, accessed 16 November 2022. |
| 17 | See 'SS Rajamouli Says He Is "Angry" with Netflix for Only Releasing Hindi Version of RRR: "I Have a Complaint Against Them"', Hindustan Times, 30 July 2022, <https://www.hindustantimes.com/entertainment/telugu-cinema/ss-rajamouli-is-angry-with-netflix-for-only-releasing-hindi-version-of-rrr-101659175302393.html>, accessed 2 January 2023. |
| 18 | See Rosemary Marandi, 'Living in the Shadow of Rebellion: India's Gond Tribe', Al Jazeera, 21 January 2021, <https://www.aljazeera.com/features/2021/1/21/living-in-the-shadow-of-insurgency-indias-gond-tribe>, accessed 28 December 2022. |
| 19 | See Suparna Sharma, 'Indian Director Rajamouli Scores a Global Hit with New Film RRR', Al Jazeera, 30 April 2022, <https://www.aljazeera.com/news/2022/4/30/indian-director-ss-rajamouli-rrr-film-teluga-cinema>, accessed 16 November 2022. |
| 20 | Rob Hunter, 'RRR Is Pure Awe, Wonder, and Spectacle in Cinematic Form', Film School Rejects, 5 April 2022, <https://filmschoolrejects.com/rrr-review/>, accessed 16 November 2022. |
| 21 | See 'RRR Is Fictitious Story Based on Two Greatest Freedom Fighters', New Indian Express, 15 March 2019, <https://www.newindianexpress.com/entertainment/telugu/2019/mar/15/rrr-is-fictitious-story-based-on-two-greatest-freedom-fighters-1951300.html>, accessed 28 December 2022. |
| 22 | Ernesto 'Che' Guevara, The Motorcycle Diaries: Notes on a Latin American Journey, trans. Alexandra Keeble, Ocean Press, Melbourne & New York, 2004, p. 31. |
| 23 | ibid., p. 70. |
| 24 | See Prabhat Patnaik, 'The Fascism of Our Times', Social Scientist, vol. 21, no. 3/4, March/April 1993, pp. 69–77. |
| 25 | See Anjan Chakrabarti, Anup Dhar & Sayonee Majumdar, 'India's Transition: A New Complex of Capitalism and Hindu Nationalism', in Ino Rossi (ed.), Challenges of Globalization and Prospects for an Inter-civilizational World Order, Springer Nature, Cham, Switzerland, 2021, pp. 503–30. |
| 26 | See Suprakash Majumdar, 'With Religious Tensions Worsening in India, Understanding Caste Is More Urgent than Ever', TIME, 6 April 2022, <https://time.com/6156124/india-hindu-muslim-caste/>, accessed 28 December 2022. |
| 27 | See Balmurli Natrajan, 'Racialization and Ethnicization: Hindutva Hegemony and Caste', in Jesús F Cháirez-Garza et al. (ed.), Rethinking Difference in India Through Racialization: Caste, Tribe, and Hindu Nationalism in Transnational Perspective, Routledge, New York, 2023, pp. 128–48. |
| 28 | See '"Last Nails in the Coffin of British Rule": Remembering Lala Lajpat Rai on His Death Anniversary', The Indian Express, updated 17 November 2019, <https://indianexpress.com/article/explained/british-rule-remembering-lala-lajpat-rai-on-his-death-anniversary-6124363/>, accessed 27 December 2022. |
| 29 | See Ritesh Babu, 'RRR Is an Incredible Action Movie with Seriously Troubling Politics', Vox, 20 July 2022, <https://www.vox.com/23220275/rrr-netflix-tollywood-hindutva-caste-system>, accessed 27 December 2022. |
| 30 | See Ajay Skaria, 'Thinking with Gandhi on Racism and Violence: A Letter to a Friend', ABC News, updated 7 July 2020, <https://www.abc.net.au/religion/thinking-with-gandhi-on-racism-and-violence/12424422>, accessed 27 December 2022. |
| 31 | See Akash Poyam, 'Komaram Bheem: A Forgotten Adivasi Leader Who Gave the Slogan "Jal Jangal Jameen"', Adivasi Resurgence, 16 October 2016, <http://adivasiresurgence.com/2016/10/16/komaram-bheem-a-forgotten-adivasi-leader-who-gave-the-slogan-jal-jangal-jameen/>, accessed 27 December 2022. |
| 32 | See Akash Poyam, 'Identity Theft: SS Rajamouli's Dehumanising Portrayal of the Gond Community', The Caravan, 1 May 2022, <https://caravanmagazine.in/film/rajamouli-dehumanising-gond-rrr>, accessed 27 December 2022. |
| 33 | See Roderick Matthews, Peace, Poverty and Betrayal: A New History of British India, Hurst & Company, London, 2021. |
| 34 | As anthropologist Nicholas B Dirks notes, '"Caste" became a single term capable of expressing, organizing, and above all "systematizing" India's diverse forms of social identity, community, and organization. This was achieved through an identifiable (if contested) ideological canon as the result of a concrete encounter with colonial modernity during two hundred years of British domination.' See Dirks, Castes of Mind: Colonialism and the Making of Modern India, Princeton University Press, Princeton, NJ, 2001, p. 5. While Dirks observes that the (modern) caste system was 'invented' and administered by British colonisation, fellow anthropologist Harald Tambs-Lyche offers a more stratified approach to investigating the 'enigma' of a still-evolving caste system predating Western (re)invention and administration; see Tambs-Lyche, Transactions and Hierarchy: Elements for a Theory of Caste, Routledge, Abingdon, UK & New York, 2018, pp. 1–3. |
| 35 | See Pamela Hutchinson, 'The Birth of India's Film Industry: How The Movies Came to Mumbai', The Guardian, 25 July 2013, <https://www.theguardian.com/film/2013/jul/25/birth-indias-film-industry-movies-mumbai>, accessed 27 December 2022. |