It's hard to think of a better candidate for a Cinema Science article than Avatar: The Way of Water (James Cameron, 2022). The original inspiration for this column was to showcase films with potential for science teachers and students, without requiring sacrificing a chunk of lessons to screenings of said films; hence, the more popular the film, the better. And, in that respect, The Way of Water – a sequel to the highest-grossing movie of all time, Avatar (Cameron, 2009), and a film that has pulled in over US$2 billion itself[1]Avatar: The Way of Water, Box Office Mojo, <https://www.boxofficemojo.com/title/tt1630029/>, accessed 22 September 2023. – is in a league of its own.
Even better for teachers in need of new inspiration is that The Way of Water is flooded with scientific potential – potential beyond the bounds of this article. Set on the fictional moon Pandora in the distant future, The Way of Water and its predecessor centre on the environment, culture and challenges of the blue-skinned, humanoid Na'vi people and their conflicts and cohabitation with colonising forces from Earth. In creating this world, Cameron and his team have thought deeply about the Na'vi's ecosystem and stretched the limits of modern filmmaking technology. The end result is a film with a rich, wondrous world that reflects and refracts our own.
In this piece, we'll dive into that landscape. By comparing Cameron's colourful creation to terrestrial ecosystems, we'll consider the interrelationships between Pandora's many species and touch on evolutionary biology. We'll also examine the particulars of how a transportive film like this was made, considering the challenges of underwater filming and the tech behind contemporary 3D cinematography.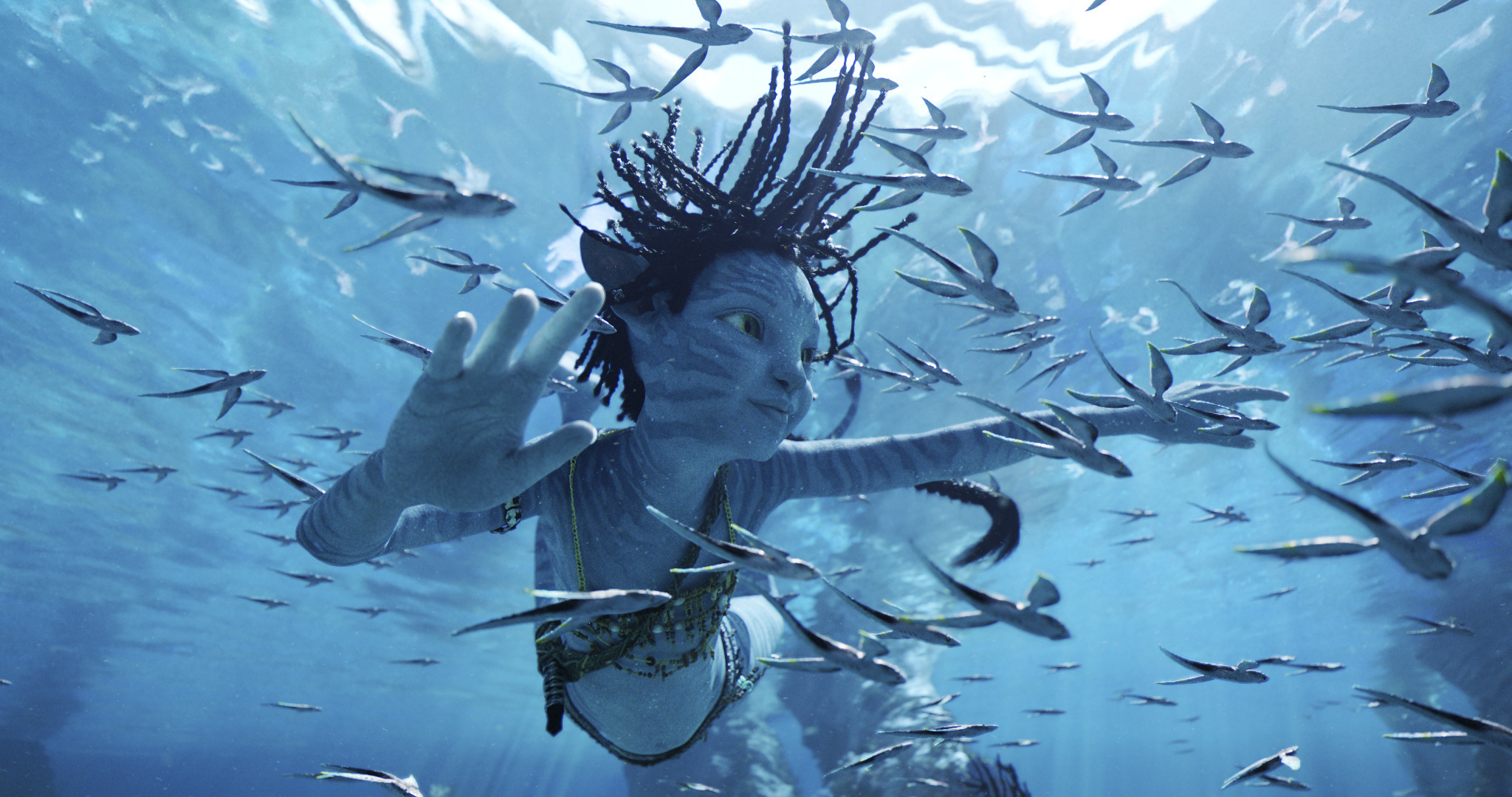 Plundering Pandora
A fascinating aspect of Pandora's design – especially evident in The Way of Water – is how it bucks the sci-fi trend of treating each separate planet[2]Granted, Pandora is technically a moon rather than a planet, but the same principle applies. as a homogeneous biome. Think the way the Star Wars universe realises its settings: Tatooine is a desert planet; Hoth, a snow planet; Coruscant, an entirely urban environment; and so on. Instead, Cameron's conception of Pandora is one of a diverse, thriving world with distinct cultures and climates. That wasn't entirely obvious in 2009's Avatar, but by spreading the scope from the forests to the oceans in The Way of Water – with future sequels promising new environs – the franchise has imagined a world that approaches the complexity of our own.
When studying a unit on ecosystems, there would be the opportunity to explore the particulars of Pandora's biomes: chronicles its flora and fauna, its environmental factors, its geology and how these interact. Indeed, there are publications that provide the properties of Pandora to help students represent these ecosystems: books like Avatar: A Confidential Report on the Biological and Social History of Pandora by Maria Wilhelm and Dirk Mathison[3]Maria Wilhelm & Dirk Mathison, Avatar: A Confidential Report on the Biological and Social History of Pandora, It Books, New York, 2009. or The Science of Avatar by Stephen Baxter.[4]Stephen Baxter, The Science of Avatar, Victor Gollancz, London, 2012. A class could examine the significance of the 'neural queue' – the tendrils that allow Na'vi to commune with different species – or explore the possibility that Pandora is an 'engineered ecosystem'.[5]See Samuel Thornley, 'An Avatar Theory Proposes Pandora Was a Created Ecosystem', CBR, 5 February 2023, <https://www.cbr.com/pandora-engineered-ecosystem-avatar-theory/>, accessed 27 September 2023.
But while these activities might make for a fun lesson or two, there are better ways to develop students' comprehension of the interconnectivity of ecosystems than focusing purely on fictional 'facts' about a world that doesn't exist – especially considering these aforementioned 'official' releases disagree on some particulars and will almost inevitably be contradicted by future instalments.
Instead, I think it's more interesting to compare the ecosystems as presented in both films with their Earth equivalents. There's a fruitful lesson or two in asking students to identify the Earth environments that would most closely resemble Pandora's and identifying the similarities and differences in how these ecosystems operate. How do species interact? What predator–prey relationships exist, and what symbiotic/parasitic relationships might exist? How do the plant species serve the animal species, and vice versa? What impact does the climate and geology of the area have on the creatures that inhabit the area? Ultimately, students can try to make their own assessment as to whether the ecosystems represented in this world are realistic or not, and justify their decisions – a task that demands a good understanding of how ecosystems operate.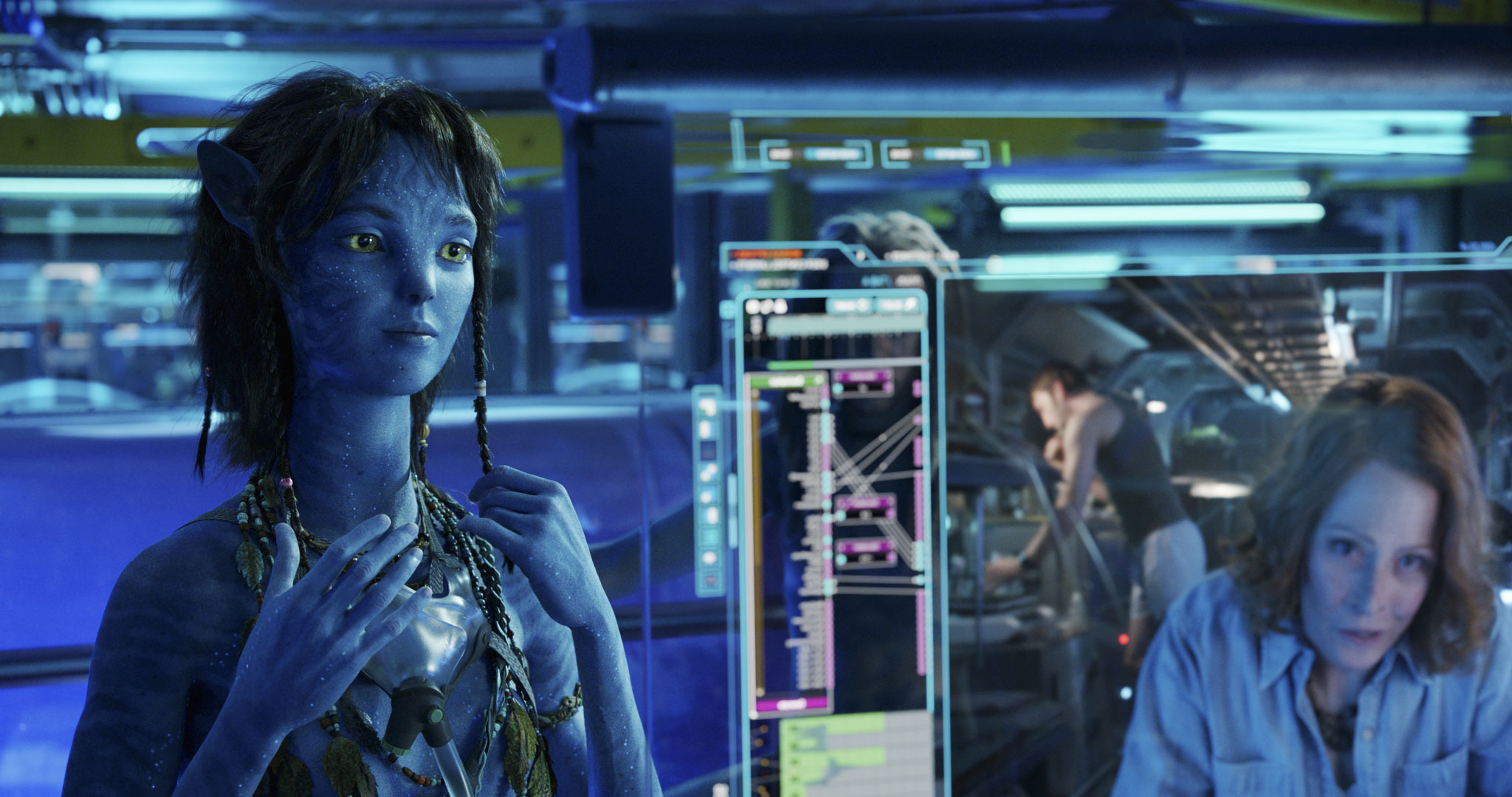 Or how they don't operate. Ecosystems are often delicately balanced webs of interconnected species vulnerable to disruption. Avatar and The Way of Water realise this disruption through the invasion of this biosphere by the worst possible threat: humans. In the first film, humankind descends upon Pandora intent on mining the valuable unobtanium[6]A fictional compound. Its silly name is actually taken from aerospace engineers who used it to describe unfeasibly costly or simply non-existent materials. See Chris Klimek, 'The Etymology of Unobtanium', Smithsonian Magazine, 22 December 2022, <https://www.smithsonianmag.com/science-nature/the-etymology-of-avatars-unobtanium-180981347/>, accessed 20 October 2023. found exclusively on the distant moon. The Way of Water instead proffers that humans, having destroyed their own planet, come intent on colonisation.[7]In the process, the colonisers hunt the whale-like tulkun for a precious fluid called amrita that apparently halts human ageing altogether, but this doesn't seem to be the sole motivation for humans' return to Pandora.
The threats presented by humanity across these films offer a lens through which to examine the real risks to Earth ecosystems from similar environmental incursions. The beauty of Pandora – and the scale of the devastation visited upon it, particularly in The Way of Water's opening obliteration – is a compelling emotional hook for students. Whether it's the impact of the Australian mining industry on our atmosphere and waterways or the long-term impacts of colonisation on biodiversity, there are countless parallels to draw between the plundering of Pandora and what has been done to our own environment.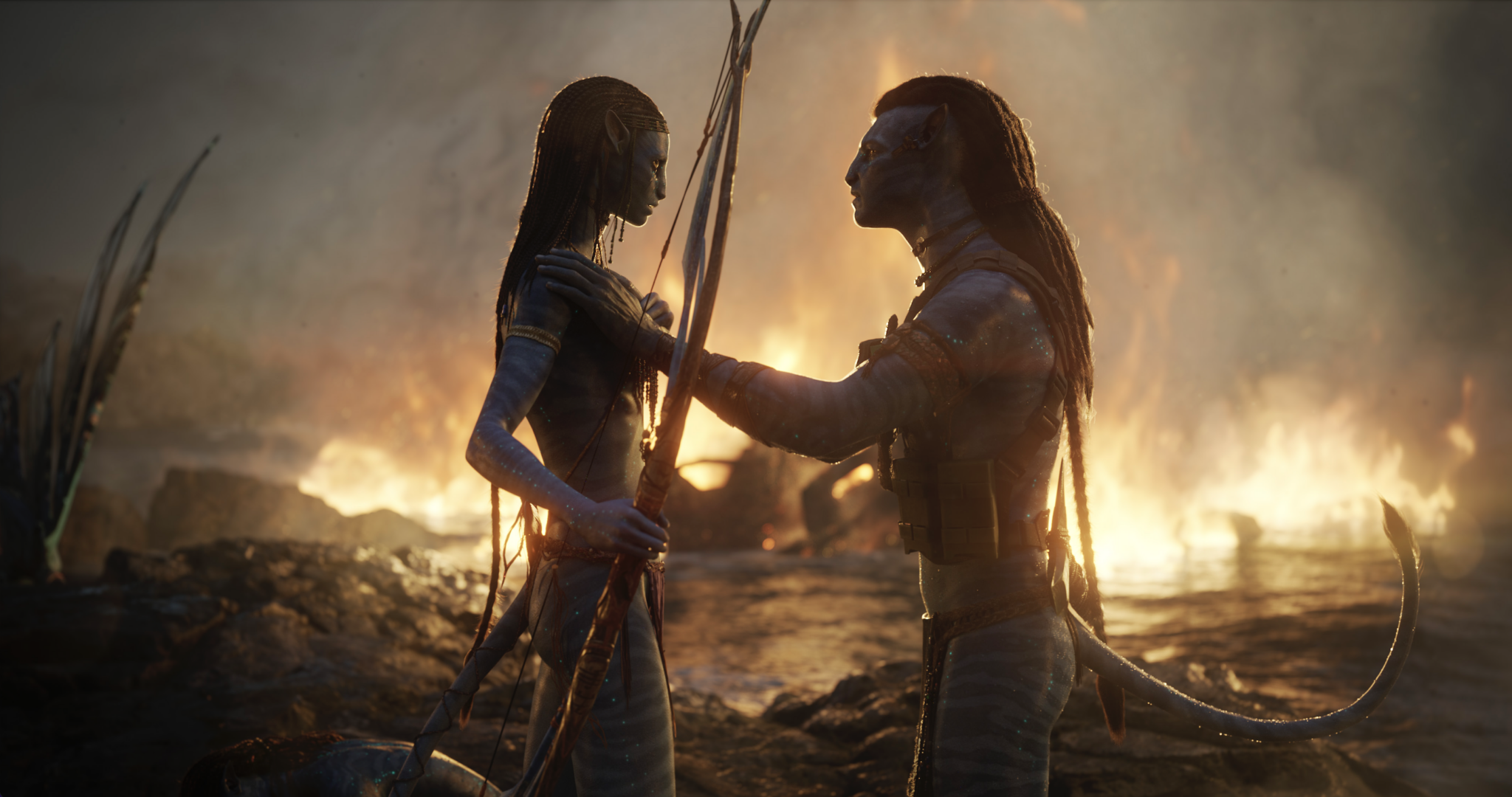 It's evolution, Na'vi
Another opportunity for budding scientists is found in Avatar: The Way of Water's representation of evolutionary biology. There's a conversation to be had about the role of evolution in both films, and to pose questions like: 'Why would species evolve to have these features in this particular environment?' However, with The Way of Water introducing the Metkayina clan – an oceanic tribe of Na'vi with distinct traditions and physical features from the original Avatar's forest-dwellers (the Omatikaya clan) – we're provided an excellent jumping-off point for an exploration of evolution and adaptation.
The first Avatar film introduces the Na'vi as a comparatively homogeneous species. Each Na'vi we meet has common characteristics: blue-green mottled skin and slender humanoid bodies, with their tails and queues the primary distinguishing factors from human morphology. From a filmmaking perspective, this makes sense. The audience is being conditioned to empathise with the Na'vi – siding with them over their own species – so an aesthetically appealing design with movement and emotional expressions that mirror our own is an obvious choice.
The introduction of the ocean Na'vi complicates matters. While recognisably Na'vi, the Metkayina clan's biology features are noticeably distinct from their inland counterparts. Their eyes are larger, featuring a 'nictitating membrane, or "third eyelid"'.[8]'Metkayina Clan', Avatar Wiki, <https://james-camerons-avatar.fandom.com/wiki/Metkayina_Clan>, accessed 20 October 2023. They have wider, stronger chests and a skin colour with a lighter, greener tone than the forest Na'vi. Their arms and legs feature 'a fin-like structure known as a "strake"',[9]ibid. while their tails are thicker, resembling a paddle in comparison to the thinner tails of their inland counterparts.
The advantages of these adaptations to the Metkayina's lifestyle should be immediately obvious. But there's a productive lesson or two in comparing these features with similar attributes in Earth animals. Examining just how the fin- and paddle-like adaptations might enable faster movement through the water, and researching which real-life animals have similar adaptations, is a fruitful vein of discovery. The purpose of the nictitating membrane seems clear; as Cameron has explained, the ocean Na'vi 'have nictitating membranes, kind of like crocodiles and owls, to protect their eyes when they're entering the water at high speed'.[10]James Cameron, quoted in Michael Greshko, 'The Seas of Avatar: James Cameron on the Real Science Behind His Fictional World', National Geographic, 16 December 2022, <https://www.nationalgeographic.com/science/article/avatar-the-way-of-water-james-cameron-science-oceans>, accessed 20 October 2023. But further investigation will demonstrate that this attribute is found across a range of species, many of whom are not aquatic at all! For example, woodpeckers use the membrane to protect their eyes from potential damage caused by their high-frequency pecking.[11]See Tamara Wygnanski-Jaffe et al., 'Protective Ocular Mechanisms in Woodpeckers', Eye, vol. 21, no. 1, January 2007, pp. 83–9, available at <https://www.nature.com/articles/6702163>, accessed 20 October 2023.
A more interesting conversation stems from questioning just how these features might have developed. After researching the value of such evolutionary adaptations, students – whether in an introduction to natural selection, or through a subsequent application of the topic – could explore the biological processes that would have allowed these features to emerge and become endemic in the Metkayina clan. Students could hypothesise about how long these adaptations might have taken to arise, and research comparable adaptations on Earth to support their ideas.
One proviso worth mentioning: the Metkayina clan's culture is also distinct from that of the Omatikaya clan; producer Jon Landau has discussed how the films took inspiration from Māori and other Indigenous cultures,[12]See Michael Cugley, 'Avatar Sequel Highlights Māori and Indigenous Cultures, Says Way of Water Producer Jon Landau', The New Zealand Herald, 24 November 2022, <https://www.nzherald.co.nz/kahu/avatar-sequel-highlights-maori-and-indigenous-cultures-says-way-of-water-producer-jon-landau/RHICBBLFVJDEZB6RVVFRJKHG2Y/>, accessed 20 October 2023. and the resulting culture clash between the two clans is a focus of much of The Way of Water's second act. There's a danger in drawing too many parallels between the biological differences of these two clans and characteristics of different human ethnicities. Evolutionary biology has been misused throughout history – and in modern times – as a racist cudgel,[13]See Rui Diogo, 'Racist and Sexist Depictions of Human Evolution Still Permeate Science, Education and Popular Culture Today', The Conversation, 5 April 2023, <https://theconversation.com/racist-and-sexist-depictions-of-human-evolution-still-permeate-science-education-and-popular-culture-today-202011>, accessed 20 October 2023. so teachers should take care with how they frame and manage these conversations with their students.
Filming underwater
Anyone following Cameron's career over the intervening years between Avatar and The Way of Water would not be surprised by the latter's migration to the sea. This shift in setting was inspired by the Titanic (1997) director's obsession with the ocean; as he said in an interview with National Geographic, 'I know a lot about the ocean, and I love the ocean. And I thought, why not put two things that I love together?'[14]Cameron, quoted in Greshko, op. cit.
One might imagine, watching The Way of Water, that the film's CGI environment – especially its extensive underwater sequences – were rendered entirely in the computer, with the actors contributing their voices to what's essentially an animated film. If so, one would be wrong.
'We dedicated ourselves to this idea that we would take the actors into the water,' Cameron has explained. 'We would teach them how to free-dive as part of their preparation for their characters, but also just practically so they could perform the scenes we teach them to scuba dive.'[15]ibid. Famously, Kate Winslet – who plays Metkayina matriarch Ronal – was able to hold her breath for over seven minutes while filming.[16]See Mehek Mazhar, 'How Did Kate Winslet Hold Her Breath for over 7 Minutes Underwater in the New Avatar Movie?', CBC Radio, updated 23 December 2022, <https://www.cbc.ca/radio/asithappens/free-diver-avatar-way-of-water-kate-winslet-1.6692890>, accessed 20 October 2023.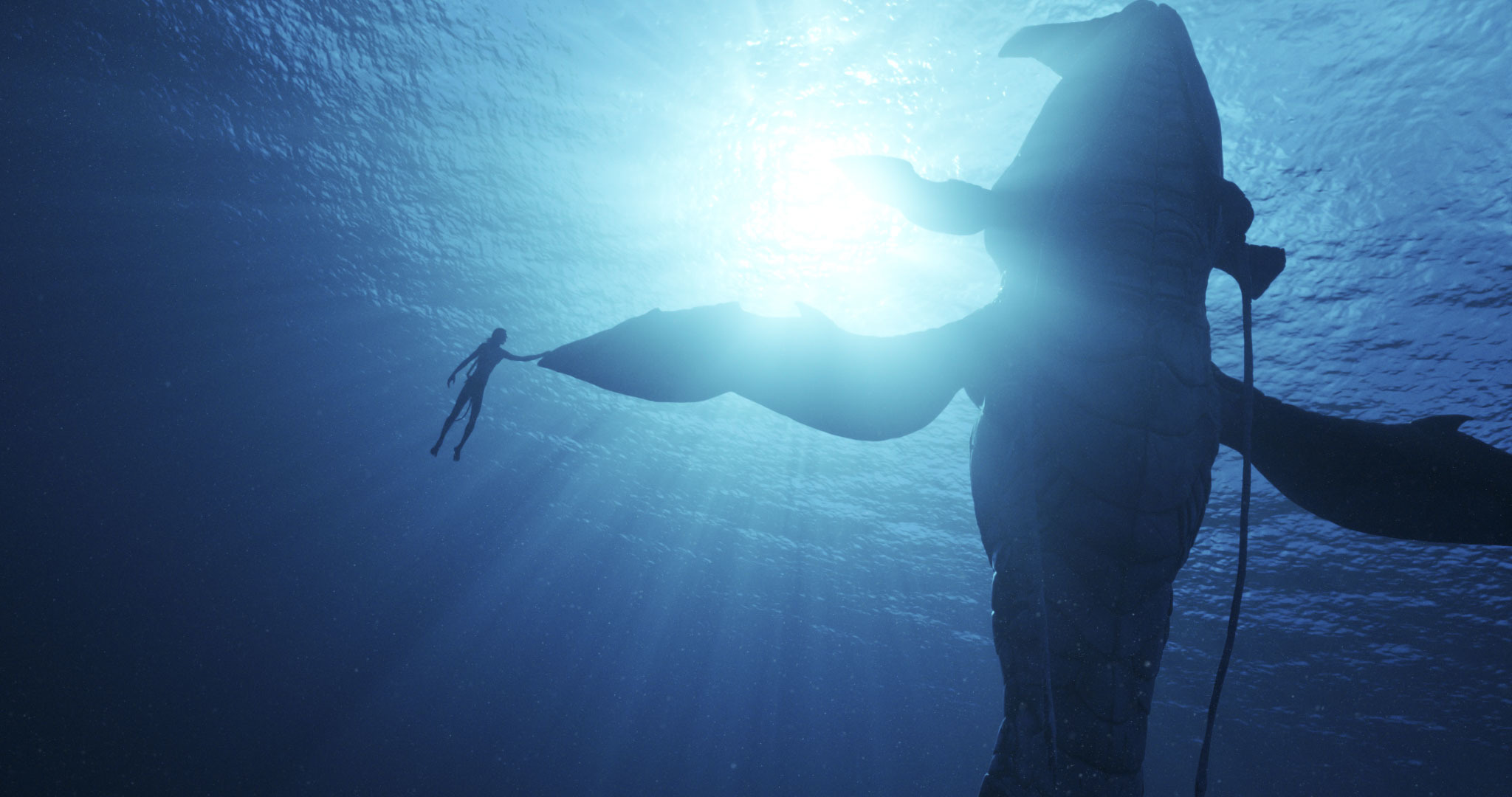 While the intricacies of how the CGI environment was generated across these films is better suited for a Film, Television and New Media classroom than Science, an exploration of the biology of how one is able to hold their breath for so long is a different story. As Chris Denison, a free-diving instructor who worked on The Way of Water, notes, 'We have an instructor who on some deep dives has clocked his heart rate at about 14 beats per minute. So we're doing things that elicit a physical process in the body that's very unnatural.'[17]Chris Denison, quoted in Mazhar, ibid. Equally, students could explore the nature of pressure underwater and how this impacts both the body – for example, the biological processes behind the bends, or decompression sickness – and the design constraints of underwater cameras.
Finally, just as Avatar brought 3D cinema back in a big way, The Way of Water may revitalise the technology once more.[18]See James Gardiner, 'Does the Success of Avatar: The Way of Water Open Cinema Exhibition to 3D Becoming Relevant Again?', Celluloid Junkie, 11 January 2023, <https://celluloidjunkie.com/2023/01/11/does-the-success-of-avatar-the-way-of-water-open-cinema-exhibition-to-3d-becoming-relevant-again/>, accessed 20 October 2023. In an optics unit, there's an opportunity to explore the technology associated with modern 3D film, and how exactly such films are able to trick the brain into seeing lifelike images.
Endnotes

| | |
| --- | --- |
| 1 | Avatar: The Way of Water, Box Office Mojo, <https://www.boxofficemojo.com/title/tt1630029/>, accessed 22 September 2023. |
| 2 | Granted, Pandora is technically a moon rather than a planet, but the same principle applies. |
| 3 | Maria Wilhelm & Dirk Mathison, Avatar: A Confidential Report on the Biological and Social History of Pandora, It Books, New York, 2009. |
| 4 | Stephen Baxter, The Science of Avatar, Victor Gollancz, London, 2012. |
| 5 | See Samuel Thornley, 'An Avatar Theory Proposes Pandora Was a Created Ecosystem', CBR, 5 February 2023, <https://www.cbr.com/pandora-engineered-ecosystem-avatar-theory/>, accessed 27 September 2023. |
| 6 | A fictional compound. Its silly name is actually taken from aerospace engineers who used it to describe unfeasibly costly or simply non-existent materials. See Chris Klimek, 'The Etymology of Unobtanium', Smithsonian Magazine, 22 December 2022, <https://www.smithsonianmag.com/science-nature/the-etymology-of-avatars-unobtanium-180981347/>, accessed 20 October 2023. |
| 7 | In the process, the colonisers hunt the whale-like tulkun for a precious fluid called amrita that apparently halts human ageing altogether, but this doesn't seem to be the sole motivation for humans' return to Pandora. |
| 8 | 'Metkayina Clan', Avatar Wiki, <https://james-camerons-avatar.fandom.com/wiki/Metkayina_Clan>, accessed 20 October 2023. |
| 9 | ibid. |
| 10 | James Cameron, quoted in Michael Greshko, 'The Seas of Avatar: James Cameron on the Real Science Behind His Fictional World', National Geographic, 16 December 2022, <https://www.nationalgeographic.com/science/article/avatar-the-way-of-water-james-cameron-science-oceans>, accessed 20 October 2023. |
| 11 | See Tamara Wygnanski-Jaffe et al., 'Protective Ocular Mechanisms in Woodpeckers', Eye, vol. 21, no. 1, January 2007, pp. 83–9, available at <https://www.nature.com/articles/6702163>, accessed 20 October 2023. |
| 12 | See Michael Cugley, 'Avatar Sequel Highlights Māori and Indigenous Cultures, Says Way of Water Producer Jon Landau', The New Zealand Herald, 24 November 2022, <https://www.nzherald.co.nz/kahu/avatar-sequel-highlights-maori-and-indigenous-cultures-says-way-of-water-producer-jon-landau/RHICBBLFVJDEZB6RVVFRJKHG2Y/>, accessed 20 October 2023. |
| 13 | See Rui Diogo, 'Racist and Sexist Depictions of Human Evolution Still Permeate Science, Education and Popular Culture Today', The Conversation, 5 April 2023, <https://theconversation.com/racist-and-sexist-depictions-of-human-evolution-still-permeate-science-education-and-popular-culture-today-202011>, accessed 20 October 2023. |
| 14 | Cameron, quoted in Greshko, op. cit. |
| 15 | ibid. |
| 16 | See Mehek Mazhar, 'How Did Kate Winslet Hold Her Breath for over 7 Minutes Underwater in the New Avatar Movie?', CBC Radio, updated 23 December 2022, <https://www.cbc.ca/radio/asithappens/free-diver-avatar-way-of-water-kate-winslet-1.6692890>, accessed 20 October 2023. |
| 17 | Chris Denison, quoted in Mazhar, ibid. |
| 18 | See James Gardiner, 'Does the Success of Avatar: The Way of Water Open Cinema Exhibition to 3D Becoming Relevant Again?', Celluloid Junkie, 11 January 2023, <https://celluloidjunkie.com/2023/01/11/does-the-success-of-avatar-the-way-of-water-open-cinema-exhibition-to-3d-becoming-relevant-again/>, accessed 20 October 2023. |